Posts for tag: dental implants
By Anderko Dental Care
September 16, 2019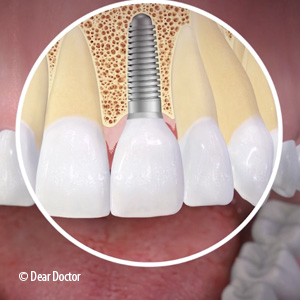 Since their introduction over thirty years ago, dental implants have become the most popular choice for dental restoration. Their large variety of shapes and sizes — a far cry from the limited choices of the 1980s — has only served to increase their popularity.
In recent years there's also been an expansion in their applicability. Most people recognize them as replacements for individual teeth — but they can do much more. They're now playing a pivotal role in other dental restorations or situations.
Here are 3 of those "cutting edge" ways implants could change your dental health and smile for the better.
Fixed bridgework. In a traditional bridge, prosthetic (false) teeth use the natural teeth on either side of the empty space for support. In this updated version, implants become the support base for the bridge. For example, a bridge as small as three crowns can be supported by two implants attached to the outside crowns of the bridge. Four to eight implants can support a bridge as large as an entire arch of teeth.
Over-dentures. In cases of significant bone loss, a full or partial denture may be a better option than a fixed bridge. Traditional dentures, though, can contribute to even more bone loss, which can cause the dentures to eventually lose their fit. Implants not only can help stop further bone loss but can also stimulate increased bone density. Two or more standard or mini-sized-sized implants can support a full or partial denture.
Orthodontics anchorage. People with missing teeth aren't the only ones who can benefit from implants. While most bite repairs only require the back teeth to provide anchorage for braces, certain complex bites may need a different point of anchorage. Orthodontists can create a more feasible anchorage point with an implant or a temporary anchorage device (TAD) imbedded in the jaw. This can help isolate teeth that need to be moved from those on the arch that don't.
If you would like more information about how dental implants could improve your dental health and appearance, please contact us or schedule an appointment for a consultation. You can also learn more about this topic by reading the Dear Doctor magazine article "Dental Implants: Your Best Option for Replacing Teeth."
By Anderko Dental Care
August 27, 2019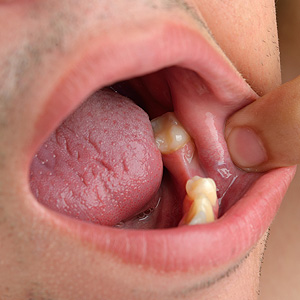 People often put a premium on appearance when deciding whether or not to replace a missing tooth. There's more motivation to replace one in the "smile zone," where the teeth are more visible, than one that's not.
But even if your missing tooth is in the back out of sight, there are still good reasons to replace it. That's because even one lost tooth can have a cascading ill effect on other teeth, the underlying bone or eventually your entire facial structure.
The chief problems caused by a missing tooth occur first with the bone. The act of chewing generates pressure around the teeth. The teeth transmit this pressure through the roots to the bone, which stimulates the bone to grow and remain strong in support of the teeth. When you lose a tooth, the bone no longer receives this growth stimulation.
In time, the replacement rate for older bone cells will slow down and cause the bone volume to decrease. It's possible to detect a change just months after losing a tooth: you can lose an estimated 25% of bone width in the first year.
As the bone diminishes, the jaw loses height and then more width. The gum tissues will also gradually decrease. As a result you may not be able to chew or even speak as well as you once could. Depending on the number of teeth you've lost, the foundational portion of the jawbone — the basal bone — may also decline. The distance between nose and chin may decrease and the cheeks sink in. Without bone support in the rear, the bite can collapse and push the teeth forward out of their normal position.
The best way to avoid this debilitating spiral is to replace a tooth as soon as practical. There are many options, but perhaps the best choice is a dental implant: not only will it provide a life-like appearance, but its affinity with bone will stop bone loss and even encourage new growth.
So, don't neglect replacing that "invisible" tooth if it's lost. Your mouth and ultimately your appearance will be better for it.
If you would like more information on tooth loss and restoration options, please contact us or schedule an appointment for a consultation. You can also learn more about this topic by reading the Dear Doctor magazine article "The Hidden Consequences of Losing Teeth."
By Anderko Dental Care
June 18, 2019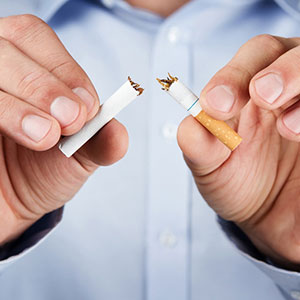 There are plenty of good reasons to quit smoking. Here's one more if you're considering replacing a missing tooth with a dental implant: smoking increases your risk of implant failure.
By and large, dental implants are the most reliable and durable tooth replacement option, with more than a 95% success rate after ten years. But that still leaves a small percentage that fail — and twice as many of those failures are in smokers than in non-smokers.
To understand why, we need to look at how smoking affects oral health. Besides burning and thickening the surface skin cells inside the mouth, inhaled smoke can also damage salivary glands and lead to dry mouth. Reduced saliva creates an environment friendly to bacteria, which increases the risk of infection and disease.
The nicotine in tobacco also restricts the myriad of blood vessels that course through the teeth and gums. The resulting reduced blood flow deprives teeth and gums not only of nutrients but disease-fighting antibodies. The mouth takes longer to heal and can't fight infection as well.
The key to an implant's success lies with its titanium post imbedded in the jaw bone to take the place of the tooth root. Titanium attracts bone cells, which grow and adhere to the post over a period of time and create a stronger hold. But the health effects of smoking inhibit this process. Furthermore, slower healing caused by smoking increases the risk of infection, the number one cause of early implant loss.
If you want to improve your chances for a successful implant — not to mention improve your overall health — you should quit smoking. The prospect of a dental implant could be a useful incentive to enroll in a smoking cessation program.
At the very least we suggest you stop smoking a week before implant surgery and then for at least two weeks after to help promote good healing. And you should pay close attention to your daily oral hygiene — brushing and flossing at least once — and regular, semi-annual dental visits for cleanings and checkups.
Smoking can harm your health. If you're considering an implant, it could also harm your chances of a successful outcome.
If you would like more information on dental implants, please contact us or schedule an appointment for a consultation. You can also learn more about this topic by reading the Dear Doctor magazine article "Dental Implants & Smoking."