Posts for tag: oral hygiene
By Anderko Dental Care
May 13, 2020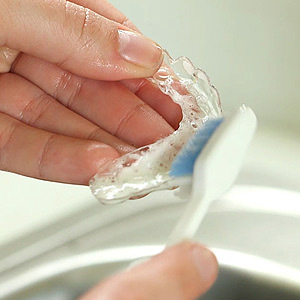 Millions of people wear some form of removable oral appliance. The range is pretty extensive, from orthodontic clear aligners and retainers to full or partial dentures. But while they may vary in purpose, they all require the same thing: regular cleaning and maintenance.
And there's a right way to care for them, and a wrong way. The right way ensures you'll get the most out of your appliance—the wrong way might drastically curtail their longevity. Here, then, are 4 things you should and shouldn't do to keep your appliance in tip top condition.
Clean it properly. Only use cleaning agents appropriate for an oral appliance's materials. That means avoiding the use of toothpaste—the abrasives in it won't harm tooth enamel, but they can scratch some appliance materials. Instead, use dish detergent, hand soap or a recommended cleaner with a little warm water. Also, use a different brush than your regular toothbrush.
Avoid hot water and bleach. Hot or boiling water and bleach kill bacteria, but they will also damage your appliance. Hot water can warp an appliance's soft plastic and alter its fit. Bleach can blanch plastic meant to mimic gum tissue, making them less attractive; even worse, it can break down appliance materials and make them less durable.
Protect your appliance. When you take out your appliance, be sure to store it high out of reach of curious pets or young children. And while cleaning dentures in particular, place a small towel in the sink—if they slip accidentally from your hand, there's less chance of damage if they fall on a soft towel rather than a hard sink basin.
Don't wear dentures 24/7. Dentures can accumulate bacterial plaque just like your teeth. This can increase your risk of an oral infection, as well as create unpleasant mouth odors. To minimize this, take your dentures out at night while you sleep. And be sure you're cleaning them daily by hand, soaking them in an appropriate solution or with an ultrasonic cleaner.
Your oral appliance helps keep your dental health and function going. Help your appliance continue to do that for the long haul by taking proper care of it.
If you would like more information on how best to maintain your oral appliance, please contact us or schedule an appointment for a consultation. You can also learn more about this topic by reading the Dear Doctor magazine article "10 Tips for Cleaning Your Oral Appliance."
By Anderko Dental Care
December 05, 2019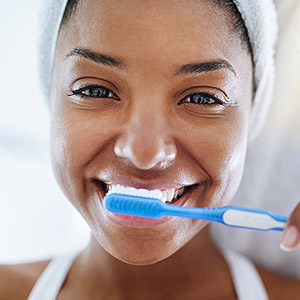 Henry Ford famously said a customer could have any color they wanted on their Model T "as long as it was black." Those days are over—today's cars and trucks come with a slew of options, and not just their paint color.
There's something else with a wide array of possible options: your choice of toothbrush. Your local store's dental care aisle has dozens of toothbrushes in a myriad of sizes, shapes and features. And many promise better hygiene outcomes because of their unique design.
It's enough to make your head spin. But you can narrow your search for the right toothbrush— just look for these basic qualities.
Bristle texture. At this all-important juncture between brush and teeth, softer-textured bristles are better. That might sound counter-intuitive, but soft bristles are just as capable at removing bacterial plaque, that sticky tooth film most responsible for dental disease, as stiffer bristles. Stiffer bristles, on the other hand, can damage gums and cause recession. Also, look too for rounded bristles (gentler on the gums), and multi-leveled or angled ones for better access around teeth.
Size and shape. Toothbrushes come in different sizes because, well, so do mouths. Look, then, for a brush and bristle head that can comfortably reach all the teeth in your mouth. If you have problems with manual dexterity, choose a brush with larger grip handles. A brush that's comfortable to use and easy to handle can make your brushing more effective.
ADA Seal of Acceptance. The American Dental Association tests hygiene products like toothbrushes. If they pass the association's standards, the manufacturer includes the ADA Seal of Approval on their packaging. Not all submit their brushes for this evaluation, so the seal's absence doesn't necessarily mean a brush is of low quality. The seal, though, does tell you the product passes muster with dental professionals.
It often takes a little trial and error to find the right brush, but since you should change yours out every six months, it's a small price to experiment. And, no matter how great the brush, it's only as good at removing plaque as the hand that holds it. So, be sure you learn proper brushing techniques—that and the right brush will keep your teeth and gums healthy.
If you would like more information on choosing the right toothbrush, please contact us or schedule an appointment for a consultation. You can also learn more about this topic by reading the Dear Doctor magazine article "Sizing Up Toothbrushes."
By Anderko Dental Care
June 08, 2019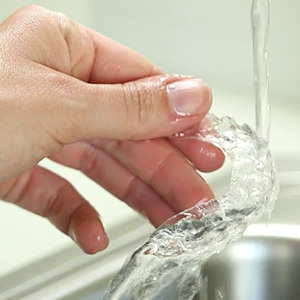 Oral appliances run the gamut from night guards and retainers to full or partial dentures. Millions of people depend on them for restoring or maintaining dental health.
Today's user-friendly appliances reflect the latest advances in technology. But that doesn't mean you can simply "place them and forget them." Their longevity depends on taking care of them.
The most important aspect of appliance care is keeping them clean. Although bacteria have no effect on an appliance's materials, they can accumulate on its surfaces and raise the risk your natural teeth and gums will be infected. To reduce that risk you should clean your appliance every day.
The best way is with a countertop ultrasonic cleaner. These units emit high frequency sound vibrations that loosen plaque (a thin film of bacteria and food particles) from even the appliance's tiniest crevices. Most units cost between $40 and $60, and pose less of a scratching risk to the appliance's surfaces than manual cleaning.
If you'd prefer to use a brush, there are some dos and don'ts to follow. You can use a cleaner especially designed for your appliance, but less expensive mild dish detergent or hand soap (with an antibacterial agent) will work too. Don't use toothpaste — most contain an abrasive ingredient for removing plaque from enamel that could leave microscopic scratches on your appliance. Use a soft-bristle toothbrush (but not the one you use for your natural teeth) or one designed for your appliance.
While boiling kills bacteria, the high heat can soften and warp the plastic material in an appliance. This could alter how the appliance fits in your mouth, making them loose and uncomfortable to wear. You should also avoid bleach: it can whiten acrylic or nylon designed to mimic the red color of real gum tissue.
Unless we've advised you otherwise, don't wear the appliance around the clock, a practice that raises the chances of bacterial accumulation. And be sure you also brush and floss your natural teeth every day.
Keeping both your mouth and your appliance clean helps ensure the best oral health possible — and that your appliance will last longer.
If you would like more information on caring for oral appliances, please contact us or schedule an appointment for a consultation.