Posts for tag: tmj disorders
By Anderko Dental Care
March 24, 2021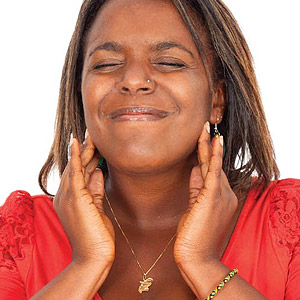 Chronic joint pain (temporomandibular joint disorder or TMD) in and of itself can make life miserable. But TMD may not be the only debilitating condition you're contending with—it's quite common for TMD patients to also suffer from fibromyalgia.
Fibromyalgia is a condition with a variety of muscular and neurological symptoms like widespread pain, joint stiffness, headaches and tingling sensations. These symptoms can also give rise to sleep and mood disorder, as well as difficulties with memory. Fibromyalgia can occur in both males and females, but like TMD, it's predominant among women, particularly those in their child-bearing years.
In the past, physicians were mystified by these symptoms of body-wide pain that didn't seem to have an apparent cause such as localized nerve damage. But continuing research has produced a workable theory—that fibromyalgia is related to some defect within the brain or spinal cord (the central nervous system), perhaps even on the genetic level.
This has also led researchers to consider that a simultaneous occurrence of TMD and fibromyalgia may not be coincidental—that the same defect causing fibromyalgia may also be responsible for TMD. If this is true, then the development of new treatments based on this understanding could benefit both conditions.
For example, it's been suggested that drugs which relieve neurotransmitter imbalances in the brain may be effective in relieving fibromyalgia pain. If so, they might also have a similar effect on TMD symptoms.
As the study of conditions like fibromyalgia and TMD continues, researchers are hopeful new therapies will arise that benefit treatment for both. In the meantime, there are effective ways to cope with the symptoms of TMD, among them cold and hot therapy for inflamed jaw joints, physical exercises and stress reduction techniques.
The key is to experiment with these and other proven therapies to find the right combination for an individual patient to find noticeable relief. And perhaps one day in the not too distant future, even better treatments may arise.
If you would like more information on the connection between TMD and other chronic pain conditions, please contact us or schedule an appointment for a consultation. You can also learn more about this topic by reading the Dear Doctor magazine article "Fibromyalgia and Temporomandibular Disorders."
By Anderko Dental Care
August 01, 2020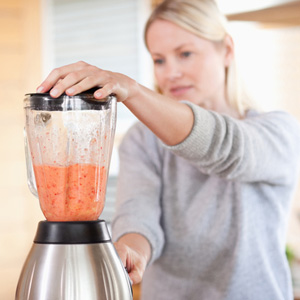 We don't often think about it, but eating is a multi-staged process. It starts, of course, with food that's hopefully high in nutritional value. But you also need coordinated jaw action to chew and shred your food that when combined with the enzymes in saliva can then be effectively digested in the stomach.
But what if you're unable to chew some foods because you suffer from chronic jaw pain and dysfunction? This is the situation for millions of people who suffer from problems associated with the jaw joints—temporomandibular joint disorders (TMD). It's not just the chronic pain and discomfort TMD can cause that's a real issue—it may also be preventing you from eating foods that are healthy for you.
Because TMD can make it difficult to open your jaws wide or causes pain when you bite down, you might especially have trouble with certain fruits and vegetables as well as many meats. Many people opt to skip otherwise healthy foods because they're too difficult to eat. That, however, could lead to lack of proper nutrition in the long run.
But with a few techniques and modifications, you can still include many of these foods in your diet even when TMD discomfort flares up. For one, be sure to cut all your food portions (including toast) into small, bite-sized pieces. These should be small enough to limit the amount of jaw opening required to comfortably place the bite in your mouth and chew. When preparing your food, be sure to peel fruits and vegetables that have skin, which is often hard to chew.
You should also try cooking crisper fruits and vegetables to a soft, moist texture. Choose meat cuts, poultry or seafood that can be cooked to a tender, moist consistency—you can also use gravies and sauces to further moisten them.
And don't forget to chew slowly. Not only does slower eating aid in digestion, it will help you avoid overworking your jaw joints.
With a few adjustments you can have a normal, nutritious diet and minimize the discomfort of your TMD symptoms. Continual healthy eating is a must for overall health and quality of life.
If you would like more information on reducing the impact of TMD on your life and health, please contact us or schedule an appointment for a consultation. You can also learn more about this topic by reading the Dear Doctor magazine article "What to Eat When TMJ Pain Flares Up."
By Anderko Dental Care
July 22, 2020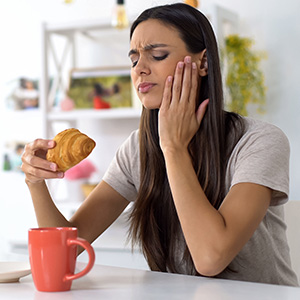 Eating is like breathing: We often do it without much thought. But if you suffer from chronic jaw pain, every bite can get your attention—and not in a good way. What's worse, in an effort to avoid the pain associated with a temporomandibular joint disorder (TMD) you might make less than nutritious food choices.
But there are ways to eat healthy without aggravating the symptoms of TMD—not just your choices of food, but also how you prepare and actually eat the food. Here are 4 tips that can help you manage eating with TMD.
Choose moist foods in sauces or gravy. A lot of chewing action is intended to mix saliva with tough or dry foods to make them easier to digest. But this extra jaw action can irritate the jaw joints and muscles and increase your discomfort. To help reduce your jaws' work load, choose foods with a high moisture content, or cook them in a sauce or gravy.
Peel foods with skin. Fresh fruits and vegetables are an excellent source of vitamins and minerals, but their tough outer skin or peel is often hard to chew. Although these parts may also contain nutrients, removing them allows you to gain most of the nutritional benefit of the food while making it easier to chew it.
Cut foods into bite-size pieces. A lot of discomfort with TMD occurs with having to open the jaws wide to accommodate large pieces of food. To minimize the amount of jaw opening, take time to cut all your food portions down into smaller pieces. Doing so can help you avoid unnecessary discomfort.
Practice deliberate eating. All of us can benefit from slower, more methodical eating, but it's especially helpful for someone with TMD. By chewing deliberately and slowly and doing your best to limit jaw opening, you can enhance your comfort level.
Eating often becomes an arduous task for someone with TMD that increases pain and stress. But practicing these tips can make your dining experience easier—and more enjoyable.
If you would like more information on managing TMD in everyday life, please contact us or schedule an appointment for a consultation. You can also learn more about this topic by reading the Dear Doctor magazine article "What to Eat When TMJ Pain Flares Up."